Solutions with Synergy: Your Publisher Technology Roadmap
Publishers bring immense value to the web by providing breaking news, informative articles, lifestyle content, and entertainment. And just like in the days of newspapers and magazines, publishers and their content are sustained through advertising.
In the digital world, publishers have the opportunity and responsibility to deliver an ad experience that provides strong outcomes for advertisers and steady revenue for themselves. To accomplish these goals, publishers need technology designed specifically for their needs.
Optimera's patented, code-on-page technology surfaces real-time, page-level data that powers automated campaign optimizations for publishers across all revenue streams, direct and programmatic.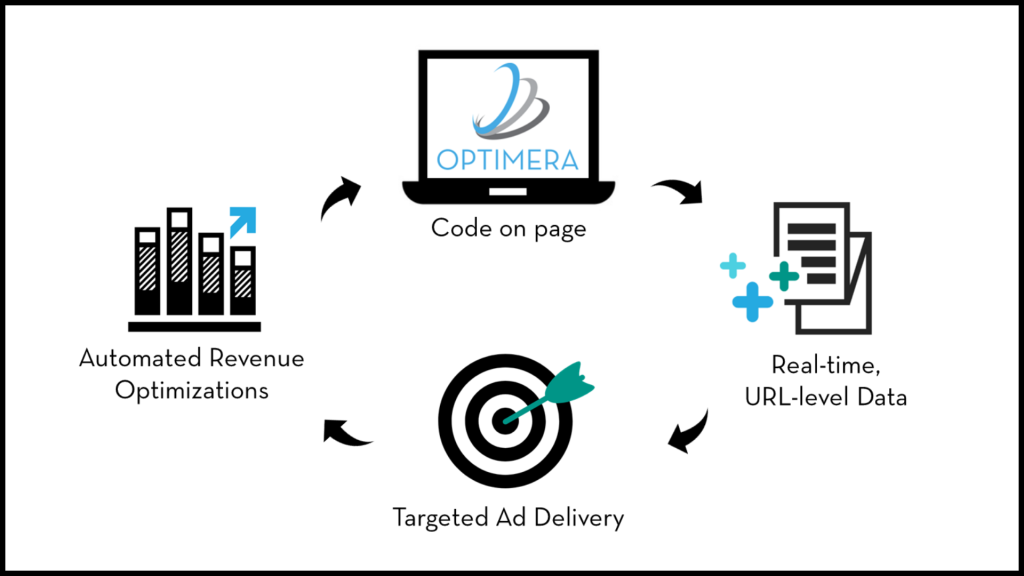 With Optimera, publishers meet advertiser KPIs every time, earn more from the open exchange, and save time with smart automations.
Our publisher technology solutions were created alongside our publisher partners, to solve real publisher problems, and they work in a seamless, complementary manner to maximize performance and earnings.
Publisher Technology Roadmap
The chart below outlines the path publishers can take to optimize performance and earnings across all revenue streams: direct sold and programmatic deals, as well as on the open exchange.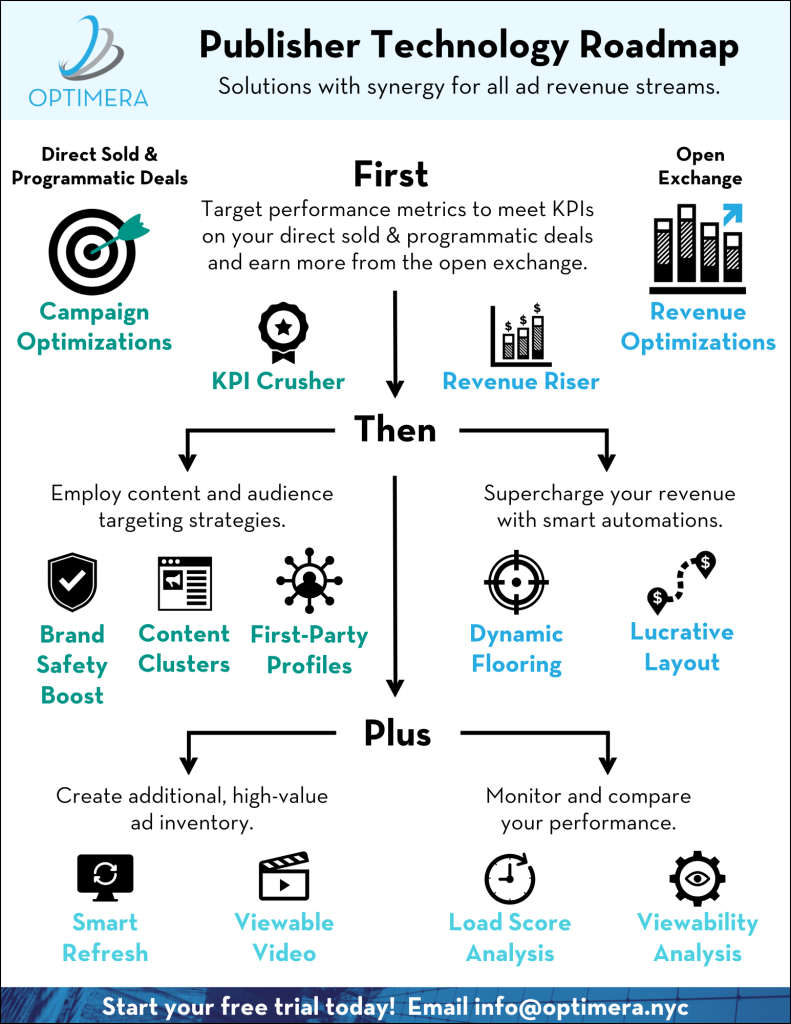 Targeted ad delivery powers campaign optimizations
First, publishers should use Optimera's core technology to segment their ad inventory by key performance metrics like Viewability, CTR, and Attention (KPI Crusher). This enables publishers to direct ad delivery to pockets of high-performing inventory and meet KPIs for direct sold and programmatic deals.
With the same technology, publishers can offer their segmented inventory to buyers on the open exchange (Revenue Riser). When this higher-performing inventory is made available to AdX and SSP partners, it unlocks an instant lift in CPM and earnings.
Moving beyond performance metric-based segmentation, publishers can employ content and audience targeting to ensure their advertising partners reach their target users on relevant content.
Brand Safety Boost targets campaign delivery away from unsuitable content and illuminates any brand safety issues that occur, while Content Clusters allows publishers to target content based on a certain topic, without waiting on an editorial team to manually tag articles.
Publishers can also enable First-Party Profiles to target custom, granular audience segments based on their own first-party data, all while complying with consumer privacy regulations.
Smart automations increase revenue and save time
But the power of real-time data doesn't end with segmentation. At the same time, Optimera enables publishers to supercharge revenue with additional smart automations.
Dynamic Flooring enables custom price floors at granular data points, producing higher CPMs without sacrificing fill rate and ensuring that every pageview earns optimally. This also saves publishers hours of manually monitoring and adjusting pricing.
Lucrative Layout optimizes ad layouts in real-time, using page-level data to maximize viewability and revenue potential without additional human involvement.
Premium inventory drives additional earnings with no rev share
Optimera offers additional value in the form of premium inventory creation. Smart Refresh intelligently refreshes in-view ads to maximize revenue from engaged users, and Viewable Video enables publishers to deliver direct sold video impressions.
Both products offer inventory capabilities without the premium cost charged by many third-party providers.
Benchmark and health check reporting offers valuable insights
Finally, Optimera clients can monitor and compare their performance across a network of enterprise publishers.
The sitewide Viewability Analysis Report surfaces viewability data broken down by several granular data points including viewability by URL.
The Ad Load Score Report surfaces valuable site speed and health insights and pinpoints slow domains within a publisher's portfolio of sites.
These reports have helped Optimera publishers identify issues on their sites and implement solutions to avoid revenue loss.
---
With an on-page solution like Optimera, publishers can offer their own, direct, granular data that shows the impressive outcomes they can drive for advertisers, all while monetizing and prioritizing their inventory as efficiently as possible.
In an industry where the key players of advertisers and publishers are often pitted against each other, Optimera promotes symbiosis and a mutually-beneficial relationship — advertisers enjoy improved campaign performance while reaching their target audience and publishers earn more and save time, allowing them to focus on their main goal of delivering outstanding content to their readers.